What is Basement Underpinning and How It Works
Basement underpinning is an advanced method used to strengthen an existing foundation by expanding its depth or breadth, ensuring the building's weight is supported by more robust soil layers or additional foundational support. This technique is particularly vital in cities where buildings are densely situated, and the foundation's integrity is crucial for ensuring safety and longevity.
Types of basement underpinning
There are a variety of approaches to basement underpinning, and the one you choose will hinge on your specific needs, preferences, the financial aspect, and any structural constraints. Reach out to us for a complimentary, detailed quote for your underpinning project.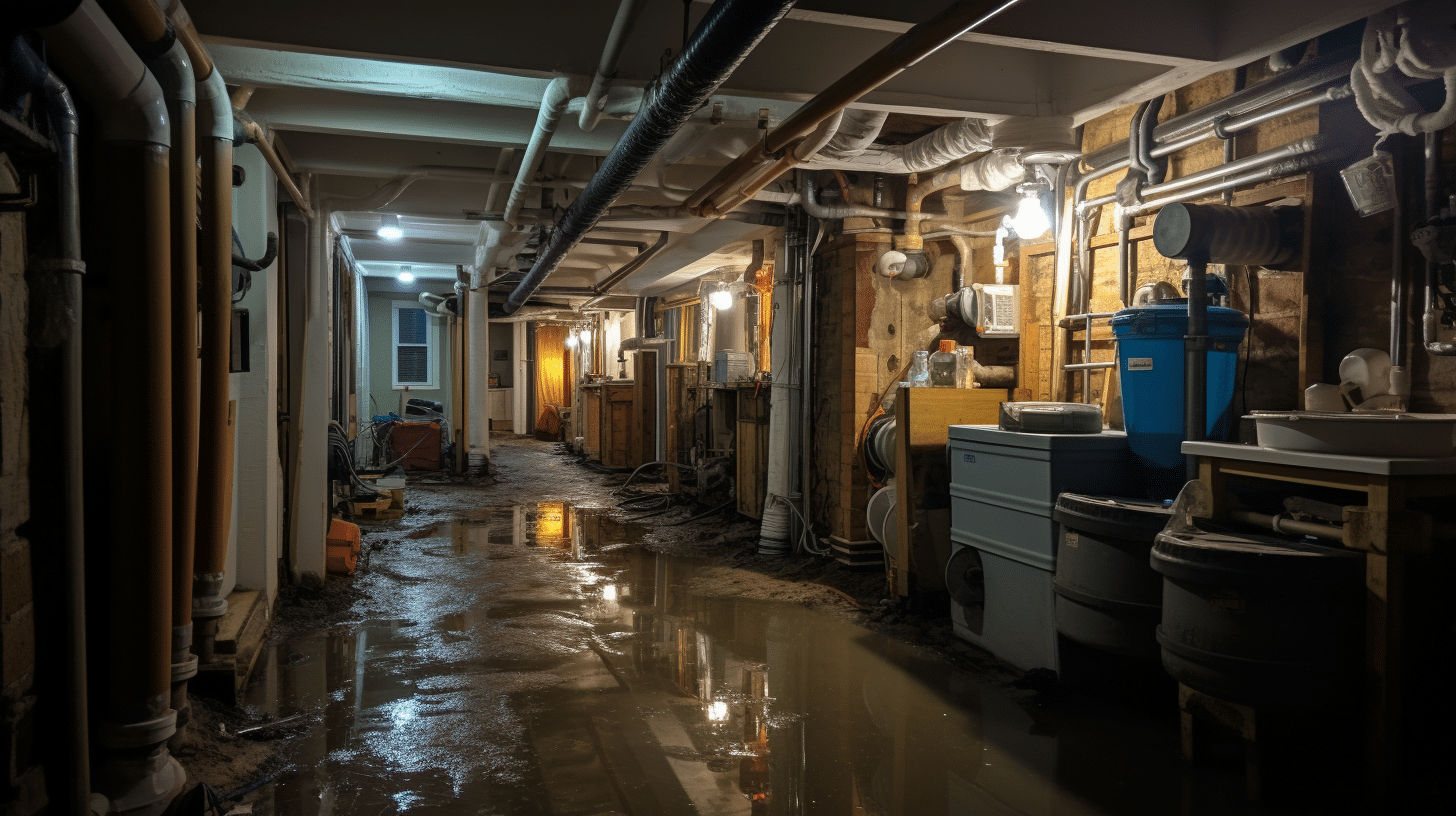 Mini piled underpinning
This approach involves creating narrow boreholes to insert steel piles, effectively transferring the foundation's load to more stable soil strata located deeper underground. Mini piled underpinning is ideal for areas with complex soil conditions, limited space for equipment, or sites where environmental considerations are paramount.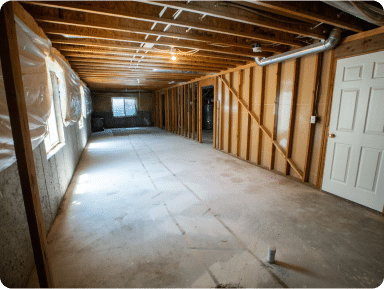 Beam and base method
Here, a robust concrete beam is used to evenly distribute the structural load to a new foundation. The beam is placed beneath the current foundation, followed by constructing a sturdy base underneath the beam, creating a firm 'platform' that shoulders the weight of the structure.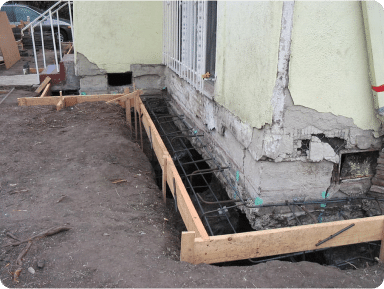 Mass pour technique
The most widespread method, mass pouring, entails digging out sections below the foundation and pouring concrete in a step-by-step manner to establish a new, more robust foundation. It's especially suitable for situations where the foundation does not need to be extended much deeper than the current basement level.
Basement Underpinning vs Benching: Understanding the Differences
Basement underpinning and benching both aim to increase a basement's usable area but differ significantly in their methods and structural impact.
Basement underpinning involves altering the foundation to increase its depth, enhancing strength, lowering the floor, and preserving the basement's original dimensions. This can also raise property value.
On the other hand, benching doesn't change the existing foundation. It involves excavating the floor to a lower level and constructing a concrete bench around the perimeter, which acts as new footing, stepping down to the newly lowered floor. Benching can be less costly and complex but also reduces the floor space because of the bench structure.
Overall, basement underpinning is a complex process that requires detailed planning and precise execution to ensure a building's structural integrity. The method selected will depend on the current foundation state, soil stability, the desired depth, and other considerations such as budget and spatial limitations. Underpinning is a comprehensive approach to enhancing the foundation, whereas benching offers a simpler method to increase height without foundational alterations.
Benefits of Basement Underpinning Services in Oakville
Opting for basement underpinning with Will Fix is a solid move not just for the strength of your house, but also as a smart upgrade with real-life perks. It turns your basement into a nicer place to hang out and can also up your home's value — a win-win in every sense.
Maximized Living Space
Give your basement a new lease on life and transform it into a useful space without adding on to your house. Underpinning lets you easily create a spot for fun, a new exercise area, or extra sleeping quarters right where your home already stands. It's a smart fix to get more from your home without extra construction.
Boosted Home Worth
Enhance your home's market attractiveness and worth through underpinning services. A solid, usable, and visually appealing basement can raise your property's status to a high-end offering, drawing in selective buyers and providing a greater return on your investment.
Foundation Strengthening
Fortify and secure the base of your home to accommodate further structural changes or to counteract the effects of aging. At Will Fix, we offer underpinning services that reduce the chances of water damage and shaky soil, guaranteeing your house rests on firm earth.
Ways to Improve Waterproofing
We promise a moisture-free, mold-resistant lower level to protect your possessions and your family's well-being. We will save your home from water entry with our cutting-edge waterproofing included with our underpinning work.
Infrastructure Upgraded
Take advantage of the chance to refresh old systems in your home. The underpinning procedure allows for the swapping out of old plumbing, wiring, and insulation, enhancing your home's energy efficiency and ensuring it meets modern building standards.
Increased Ceiling Height and Natural Light
Elevate your home's interior with our underpinning offerings. Achieve taller ceilings for an airy atmosphere and install bigger windows to brighten the space with natural light, greatly enriching the comfort and utility of the area.
Why Will Fix Oakville Underpinning Contractor
Selecting Will Fix for your Oakville underpinning project means you're not only addressing the immediate structural concerns but also investing in the future well-being of your home. It becomes safer, more delightful, and increases in value. Our experts are focused on excellence, using cutting-edge practices and maintaining the strictest levels of quality. We handle every job with a strong commitment to outstanding workmanship and ensuring client happiness.
Proven Expertise
Boasting a history of accomplished undertakings, Will Fix is synonymous with dependability in the realm of basement underpinning. Our professionals offer extensive experience and a flawless history to your remodeling project, guaranteeing that every detail is managed with attention.
Superior Materials
The basics of good underpinning lies in the caliber of the materials used. Will Fix is dedicated to sourcing only top-notch materials from the market, guaranteeing that the resilience and longevity of your basement remain intact. Anticipate sturdy foundations built to endure for years to come.
Commitment to Security
Will Fix, as a licensed contractor with full insurance coverage, places the safety of your property and our team at the forefront. Recognizing the critical nature of a solid foundation, we tackle every project with rigorous adherence to safety measures and a focus on maintaining structural soundness.
Cutting-Edge Methods
By adopting the latest technology and state-of-the-art tools, Will Fix infuses your basement underpinning project with accuracy and speed. Our forward-thinking techniques result in smoother, quicker, and sharper upgrades, reducing hassle and enhancing outcomes.
Honest Guidance
At the core of our offerings is a commitment to integrity. Will Fix is dedicated to providing homeowners with sincere, clear-cut recommendations. Our counsel is impartial, tailored to discovering the optimal approach for your unique situation, rather than focusing on our profits.
Exemplary Standards
At Will Fix, our commitment to the highest industry standards is absolute. We're recognized for our exemplary work, making sure that each underpinning task we undertake in Oakville not only meets but frequently surpasses the strictest benchmarks in the field.
How Much Does It Cost to Underpin Your Basement in Oakville?
Calculating the exact cost for basement underpinning in Oakville can be as complex as the procedure itself due to a variety of factors that sway the total investment. For an initial gauge, homeowners might expect starting costs to hover between $65 and $85 per square foot.
Nonetheless, it's essential to recognize that such numbers only serve as a basic approximation. To get a quote that truly reflects your home's individual characteristics and specific underpinning requirements, the most reliable step is to reach out to us.
A number of important elements can impact the total price of underpinning your basement:
At Will Fix, we stand for clear and forthright communication, promising our clients precise and individualized estimates. Recognizing the distinctiveness of each home and budget, we offer a personalized evaluation that encapsulates the full extent of labor required for your specific underpinning project. Avoid letting general estimates steer your financial planning – instead, reach out to Will Fix for an exact and fair quote that will turn your underpinning project into reality.
WillFix provides a variety of Industry-Leading Waterproofing Solutions tailored for the repair needed for your home. Our team has experience repairing every type of walls, whether they are older homes or new construction. We use the best waterproofing products for the job and back your basement waterproofing Oakville jobs with a lifetime warranty guarantee. Our Oakville waterproofing costs are competitive with the rest of the market.
Exterior Basement Waterproofing
Protect your residence against the whims of the weather with Will Fix's premier outdoor basement waterproofing. We provide a formidable line of defense that keeps your basement secure from water-related harm. Furthermore, our environmentally conscious waterproofing not only safeguards your home's base but also enhances its curb appeal. Opt for our waterproofing prowess for enduring peace of mind.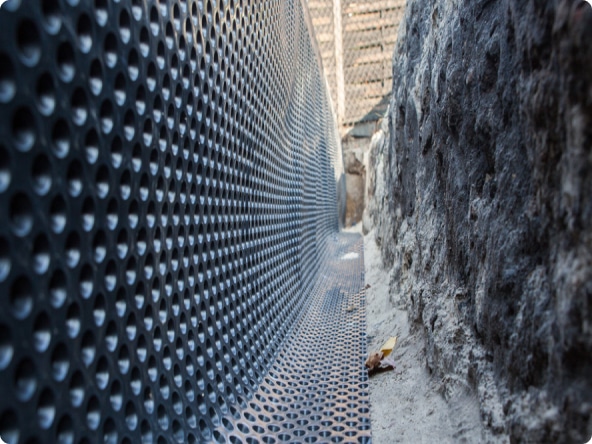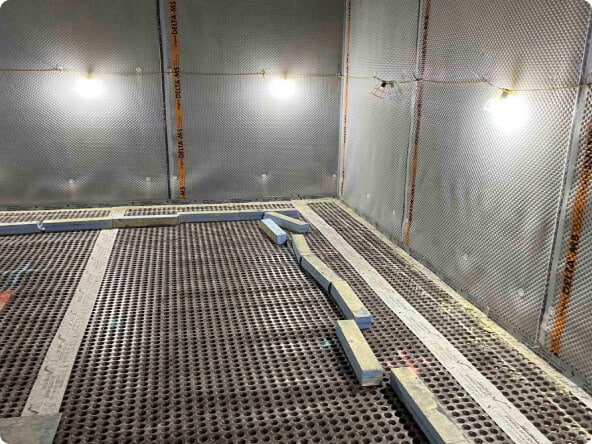 Interior Basement Waterproofing
Rely on Will Fix to revitalize your damp, stale basements into fresh, moisture-free areas. Our interior basement waterproofing solutions divert water from your foundation, ensuring the long-term stability of your home. Experience an improved living space with no dampness, diminished threat of mold, and an increase in your property's worth. Decide on a better, healthier living space today.
At Will Fix, we understand that your home's foundation is its bedrock of security, and any impairment poses a risk to your well-being. That's why our primary focus is on reinstating this core stability with our all-encompassing foundation repair offerings. We tackle and resolve problems such as lopsided floors and fissured walls, guaranteeing your home's steadiness and preserving your tranquility.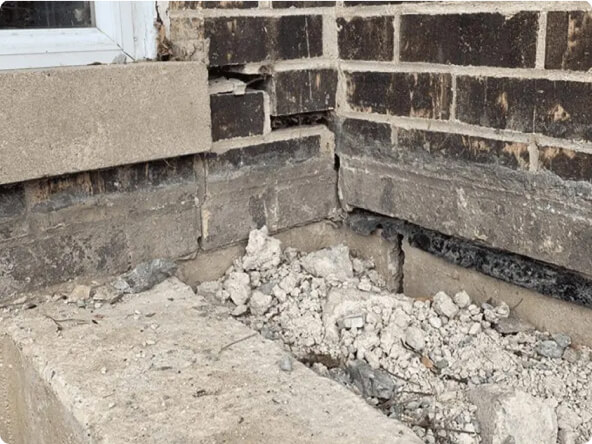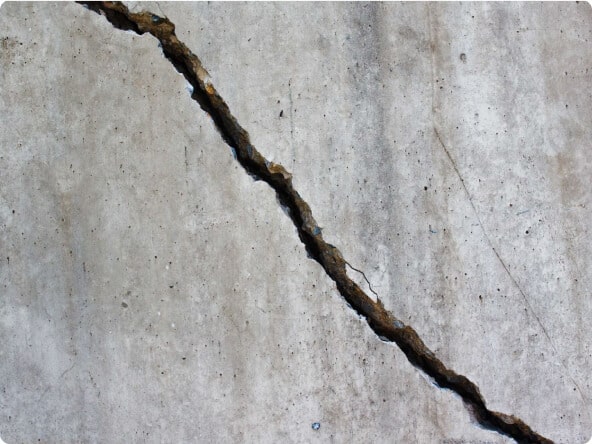 A tiny fissure may appear innocuous, but it can open the door to dampness and critters. At Will Fix, we offer a basement crack repair service that effectively plugs these breaches. In tackling these weak spots, we aid in shielding your home against possible harm, cutting down on energy waste, and increasing its value on the market. Fortify your home's protective barrier with our specialized crack repair services.
Concrete Contractor Services
Discover the durability and beauty of concrete with Will Fix's professional concrete services. Our experienced crew excels in both laying new concrete and mending existing structures, guaranteeing that each job, from driveways to patios, is a seamless union of practicality and style. Choose our superior concrete offerings to create enduring and impressive surfaces for your home.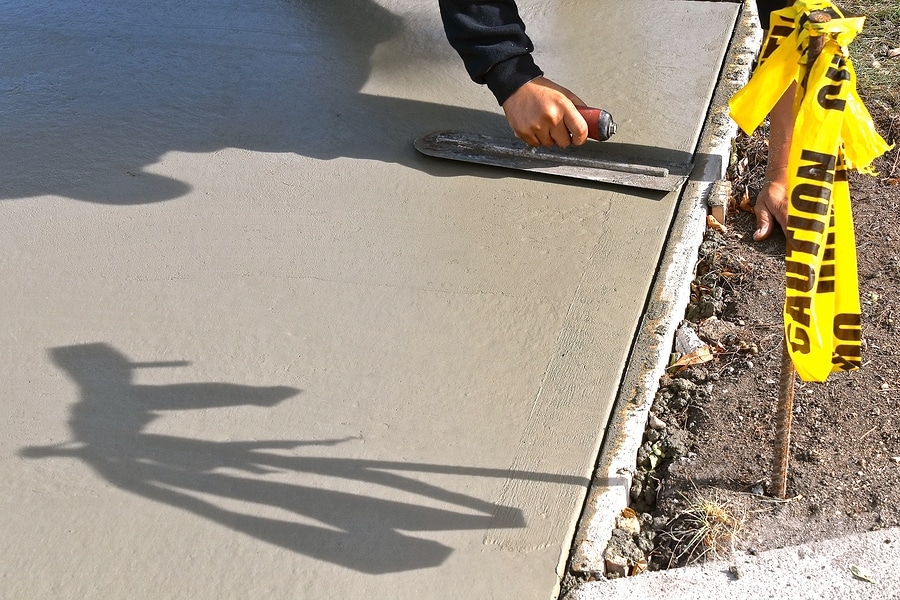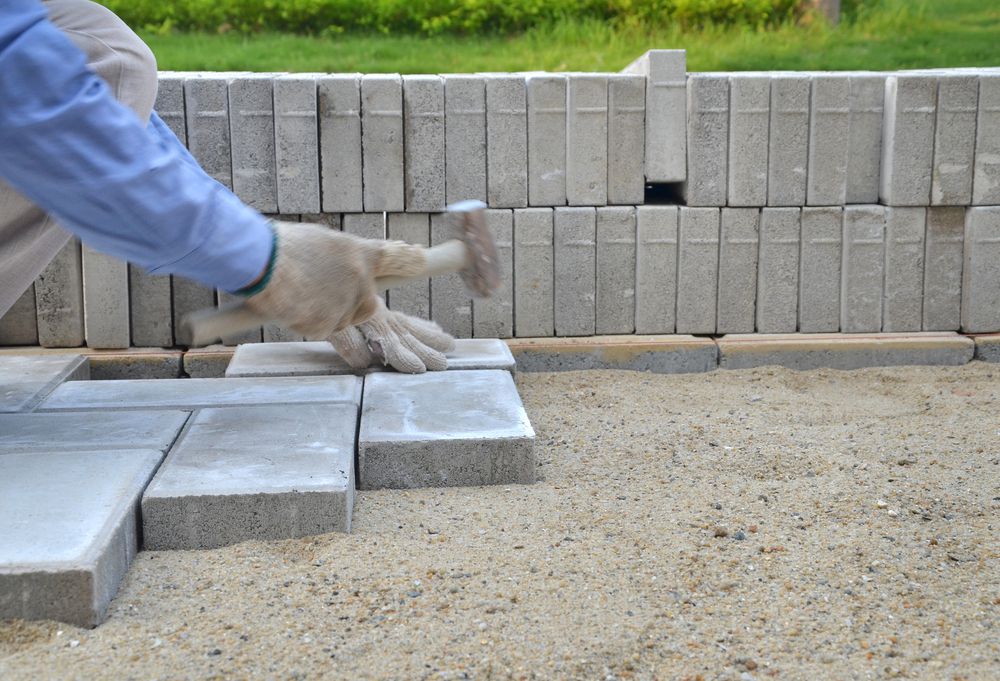 Transform your exterior areas with the stylish resilience of Will Fix's interlocking patterns. Our superior interlocking offerings are crafted to endure through the years, resilient against the elements and frequent activity. Aimed at improving driveways, paths, or patio areas, our services do more than just elevate the aesthetics of your outdoor space—they also add substantial worth to your property.
We treat every basement like our own — with the utmost care and highest quality as our top priority
Basement waterproofing is an effective way to increase your comfort while making your basement uninhabitable for bugs or fungus.
Testimonials
In the last 20 years, we performed over a thousand projects all across Toronto. We're proud of our reputation and always appreciate the kind words from satisfied clients:
We desperately needed basement waterproofing services when Will Fix stepped in to help. They were very responsive, and their team did an excellent job fixing the problem. Their pricing is very reasonable, and the job done is perfect!
Alan Gowan
11:57 23 Sep 23
WillFix is top-notch! They provide exceptional service, and their pricing is more than fair. Alex's team was reliable and professional, providing excellent recommendations for keeping my basement dry. Thank you for a job well done!
Randolph Fisher
06:21 21 Sep 23
Sump pump and waterproofing done pleasant owner easy to deal with.
Joan Peters
13:26 31 Jul 23
Dmytro and his team are fast, professional and hard working. Injustbone day they where able to dig out 6 feet of soil across our back wall, back fill, put up a membrane and clean up. Great work.
DontGetHoley
02:33 21 Jul 23
Initially, I hesitated to hire Will Fix for concrete works, but I'm so glad I did! It has exceeded my expectations in terms of efficiency and quality. The customer service was also exceptional - they helped me with any questions and ensured I was

delighted. I give them a big thumbs-up!👍

read more
Kay Greene
06:58 26 Jun 23
Got exaclty what I needed, a concrete pad for a good price in a timely manner... Very professional and great value.
Dan St-Fernando
20:51 24 Jun 23
I needed concrete work done in my home, so I stumbled upon Will Fix when searching the web. They are indeed one of the best concrete contractors in Toronto because they provide top-notch services. They were very professional and knowledgeable, and

their work was of the highest quality. Thank you for the excellent service!

read more
Robert Mccoy
07:46 21 Jun 23
The leaky basement was driving me crazy. I tried to fix it myself, but water came back every time a new crack appeared! I started to think that I was cursed or something. I gave up and contacted Will Fix. Why the hell didn't I do this before?? They

found an underground source of water that messed up my basement and built a unique structure to redirect it. They also performed basement waterproofing. The whole process took less than one month when I tried to fix it for several years... thank you!!

read more
Sophia Edwards
03:07 11 Jun 23
My basement was flooded, and I was desperate for help. Will Fix came to my rescue and fixed the problem quickly and efficiently. Their team did an excellent job, and I now have a dry and comfortable basement. Thank you so much!
Douglas Anders
10:34 07 Jun 23
I needed a reliable basement waterproofing contractor to fix the water seeping into my basement. WillFix not only did an excellent job at fixing the leak, but they also provided superb customer service. I highly recommend them!
Brenda Burgess
12:57 28 May 23
Great service and decent price for underpinning. Dmytro is a nice person and knowledgeable in his job.
I noticed mold in my basement and understood that it is due high humidity. I called WillFix and they sent a specialist to check where is the problem for free! He found a leakage and later they repaired it. Goodbye, wet basement!
Ruth Powell
04:34 20 Apr 23
I fastly got an estimate and when I saw it I was amazed at how the price can be so low. I was suspicious but decided to try because I had no extra money and the issue with the leaky basement needed to be resolved asap. What can I say, I'm happy that

I trusted them! Will Fix is a truly professional contractor. All preparatory work was made for FREE (from the first call and estimate to the first visit). They did an excellent job and cleaned up after themselves. Highly recommended!

read more
Candace Graves
12:16 11 Feb 23
I have only good words to say about Will Fix. We asked them to repair the leaky basement at my mom's house. It was hard for me to drive from me to mom and back, I'm glad that they did it all themselves and kept me posted on any updates. Amazing

professionals!

read more
Kerry Robertson
05:58 29 Jan 23
Will Fix team completed basement waterproofing at my place last summer. They did a great job fixing a huge crack, but unfortunately, no one could tell why it appeared in the first place. Probably there was a mistake when the foundation was built.

Glad that now my basement is bone dry and successfully lasted through winter and will last for years to come.

read more
Emily Moody
03:46 21 Jan 23
I started to see a lot of insects in my house despite it wasn't the season. After my 3rd call to extermination company I understood that something was wrong. I read a lot about high humidity in the house and decided to waterproof my basement.

WillFix did that for me, the quality and materials are on top. Thanks! Finally no insects!!!

read more
Lisa Obrien
12:09 12 Nov 22
I didn't know what basement waterproofing I need, exterior, interior, I'm not an expert. Guys from Will Fix came to my house, carefully examined my place and advised how best to make the basement always dry. It's already the second year, everything

is great!

read more
David Payne
03:22 29 Oct 22
I recently found out that there is a crack in the foundation of my house. I was stressed and scared. Luckily enough I quickly found Will Fix and called them. The workers who came to help me were incredibly efficient and knowledgeable in resolving my

problem in a timely matter. Recommending this company to everyone in need.

read more
Willie Kirksey
01:43 23 Oct 22
Will Fix are the best contactors I worked with. They did such a great and hard work for a very reasonable price. After exterior waterproofing they did I'm sure that my basement will be dry for years to come!
Everett Staley
10:54 22 Oct 22
Great service. I applied for a quote and got a phone call extremely fast. The price Will Fix offer for foundation crack repair is more than affordable.
Sandra Cruz Ojeda
12:18 17 Oct 22
My wife and I can't thank WillFix enough. We store a lot of stuff in the basement and it suddenly got almost completely flooded dur to some kind of technical fault in pipes nearby. Workers came really fast and dealt with a leakage like pros! Bravo!!
Julian Keller
01:30 16 Oct 22
Floods are normal in the GTA and unfortunately cracks started to appear in my family's nest basement. WillFix fully justified its name. Workers came in time, explained what they were doing and why. Now I'm sure that my basement will stand through

toughest winters.Thank you!!

read more
Jason Merritt
02:05 12 Oct 22
We recently bought a house and we were really disappointed to see a wet basement after several days of heavy rain. Our friend recommended to call Will Fix so we did. The crew came fast to examine surroundings and chose the best option of basement

waterproofing that will suit our needs and budget. The project we picked was ambitious but guys completed it in 2 weeks! Huge thanks!!

read more
Paul Simmons
08:56 09 Oct 22
I have used their services thrice and at three different locations I work on. My clients are appreciating me for quality work. I really recommend their waterproofing solutions.
Jaime Green
12:53 07 Oct 22
When I bought a house I was told that the area is really floody, that's why the price was so nice. After the first winter I decided to waterproof my basement since it was too wet in there. Guys from WillFix were amazing. They did their job fast and

professionally.

read more
Amelie French
01:53 07 Oct 22
Great result! Reasonable prices! Called for a quote, received it over the phone and got everything done within 2 weeks! Highly recommend if your basement leaks.
Got my basement waterproofed with Dmytro and his crew. They gave me the best quote and finished everything on time. Highly recommend!
Ktrn Klmv
23:43 04 Oct 22
Dealt with my basement leakage like it was nothing. These guys are amazing. Highly recommend!
Michael Carey
07:48 28 Aug 22
Even 5 starts aren't enough to describe how I'm pleased with their service! Everyone from a girl on the phone to the guys who came to repair basement leakage are real pros. Thank you!
Jacob Figueroa
03:20 25 Aug 22
My health was almost on edge because of the enourmously high humidity in my house. I started to lose hope but found WillFix. They detected the problem, waterproofed the basement and did their job perfectly. Finally dry and warm home, thanks guys!!!
John Terrell
04:16 24 Aug 22
I was looking for basement leakage repair and hired WillFix because of the quote and timing. They asnwered my call and schedule an appontment on the next day! They're true professionals! All the best to you guys! Thank you
Justin Stewart
09:27 14 Aug 22
Hired WillFix to fix my basement leakage and they did that so quickly! The team was very professional and friendly! Highly recommend!
Angela Beaty
07:49 11 Aug 22
Outstanding company, outstanding work. I would recommend Will Fix anytime. All the workers are professional and courteous from the office to the laborers. We were very impressed and satisfied with all the work we had done.
Bertha Fisher
06:01 26 Jun 22
So glad we found affordable waterproofing! We recently purchased our home and discovered that we had water coming up through the basement floor after heavy rains. Affordable waterproofing gave us the best estimate and plan to waterproof a

basement👍

read more
Martine Weber
04:12 22 Jun 22
Affordable waterproofing was 5 stars from star to finish! From the sales person, to scheduling, to the gentleman doing the work; everyone was friendly, professional, and on point. I was getting at least 6 inches of water or more every time it

rained. Now my basement is completely dry and it feels very comfortable. Thanks a ton Will Fix!

read more
Laurel Jackson
06:33 18 Jun 22
Thank you to Dymtro and his team for a job well done! Goodbye wet basement FOREVER.
Edward Duncan
07:29 15 Jun 22
These guys are life/house savers. Our rainy weather has been brutal. We tired of a daily routine of toweling-up/mopping-up basement water.The crew was outstanding, hard-working, considerate of our home, and knowledgeable. All work was done in a day.
Mike Healey
04:58 14 Jun 22
Very knowledgeable and professional service. Highly recommend for any waterproofing or foundation needs.
Wilma Vanwyk
05:50 30 May 22
Friendly, professional, knowledgeable and accommodating. They were able to squeeze me in last minute to look at my basement before it went on the market and took the time to walk me through the preventative measures I could take to prevent future

issues. I am so grateful for their service!

read more
Peter Bingham
05:58 24 May 22
This AMAZING crew goes under and behind to go above and beyond. No basement job is too complicated for them. Incredibly knowledgeable and professional, kind and courteous. Fast, efficient, affordable. Thanks guys!
Irene Valle
05:49 23 May 22
My wife and I have been living in our home for over 23 years and began noticing a foundation crack during a recent renovation project. A friend recommended Will Fix, and we were pleasantly surprised with the outstanding service we received from

Dmytro and his team. The foundation crack repair service we got was 10/10. Thanks guys!

read more
Willie Riggs
03:00 19 May 22
Will Fix is the best basement waterproofing company in the GTA! Their experience, knowledge, work ethic and attention to detail cannot be beat.If you are a builder, home owner, or renovator and want a basement waterproofing service, call these guys!

You will not be disappointed.

read more
Preston Holmes
04:04 18 May 22
Excellent communication, top quality work. Took the time to ask questions about the property, access, area around the cracks, and what would be required to expose enough of the foundation to seal it. They answered any question I had and were very

responsive. Very impressed with the quality and most of all the communication. I would recommend them 100%👍

read more
Mitchell Collins
06:25 16 May 22
Will Fix basement waterproofing has excellent customer service. The inspector was very knowledgeable, and he listened to all my concerns. They had me schedule and my work done in a timely manner, the installation went very good and the guys who did

my install was nice and did a great job. I would recommend them to anyone.

read more
Dean Mitchell
02:00 11 May 22
I have been recommending them to my contacts and friends ever since we used them. Dmytro stands behind his work and is a pleasure to deal with.
Amelia Miranda
06:04 23 Mar 22
Work site was tidied every evening and final job site looked like it had never been disturbed. Would hire again!
Amy Anderson
03:24 20 Mar 22
I've dealt with many contractors over the years and this is the best experience I've ever had! I shopped around and did my research and I found their price to be the most reasonable, not to mention, they used top quality material. The team at Will

Fix is very knowledgeable and took the time to explain everything. 5 stars!

read more
William Robertson
04:04 16 Mar 22
Will Fix takes pride in ensuring the wet basement repair is done properly and that the clean up is immaculate. THE BEST in the GTA!
Faye Hunter
07:41 12 Mar 22
Not only did Will Fix restore our basement to a dry and comfortable living space, they also restored our confidence and peace of mind. Thank you Dmytro. I would highly recommend his services to anyone.
Joey Kurtz
07:06 11 Mar 22
I recently had a waterproofing basement completed for my new home. Best decision ever, and Dmytro made it a great experience. He is very knowledgeable, courteous and professional. Kept to the estimated price, and did the work in a very timely

manner. My family and I are now enjoying a dry basement that we know will last forever.

read more
Arlene Watson
02:51 08 Mar 22
What are the primary benefits of basement underpinning for my home?
Basement underpinning offers a multitude of advantages, beginning with the obvious increase in floor-to-ceiling height that can transform a previously unusable basement into valuable living space. This process can significantly bolster the structural stability of your home, potentially resolving existing issues like subsidence or uneven settling.
Moreover, underpinning can be the opportune time to integrate additional features such as waterproofing, improved insulation, or enhanced heating systems, which can further augment your home's energy efficiency and comfort. With these upgrades, not only does the functionality of your basement escalate, but there is also a potential uplift in the overall market value of your property.
What potential risks should I be aware of with basement underpinning, and how does Will Fix mitigate them?
While basement underpinning is a powerful solution for enhancing your home, it's not without its risks, which include potential damage to the existing structure during the excavation and underpinning process, as well as the risk of unforeseen complications with soil stability or water ingress. 
Will Fix mitigates these risks through meticulous planning, employing state-of-the-art techniques, and ensuring that all work is conducted by seasoned professionals. We adhere strictly to safety protocols and building regulations to minimize any possible risks. Our preemptive measures include thorough site assessments and the use of advanced technology to predict and counteract issues before they arise.
How does the basement underpinning process affect my daily life while the work is being done?
Basement underpinning is a considerable construction project that can affect your daily routine due to the presence of workers, equipment, and the inevitable noise and dust generated by the work. Will Fix is committed to minimizing this disruption. 
We establish clear communication channels to keep you informed of the project's progress and work efficiently to reduce the overall project timeline. We also take extra care to contain the construction area and schedule work at times that are least disruptive to your household. Safety measures are rigorously implemented to ensure that the living areas of your home remain safe and clean, and that your family's life is impacted as little as possible throughout the process.
What to Expect With Willfix Basement Waterproofing in Toronto
Step 1: Planning & Preparing
Step 2: Works & Solution
Step 3: Backfilling & Pouring
Step 4: Results & Guarantee
Comprehensive Inspection & Plan Drafting:
A certified engineer from Willfix will inspect your basement in detail and draft precise blueprints. Before we begin, obtaining the necessary permits is crucial for your underpinning project.
Basement Floor Removal & Soil Excavation:
We'll carefully remove your current basement floor and excavate the soil underneath, making room for the extra height you want.
 Structural Support Enhancements:
Following the blueprints from our engineer, we'll bolster your basement with new concrete sections, ensuring a solid and durable foundation.
Infrastructure Improvement Opportunity:
We'll take this chance to lower and realign your plumbing. It's the perfect time to tackle any infrastructure or foundation issues.
Backfilling & State-of-the-Art Waterproofing:
An advanced drainage system will be installed, and we'll shield the new foundation with gravel for a strong defense against moisture.
Pouring & Finishing the New Floor:
We will pour a new, reinforced concrete floor, achieving a smooth and even surface for both visual appeal and practical function.
Detail-Oriented Cleanup & Finalization:
Our team is committed to a clean handoff, ensuring your newly transformed basement floor is spotless and ready for use.
Willfix Workmanship Guarantee:
Take comfort in a 25-year quality assurance promise. If any issues surface, we commit to resolving them without additional costs.
20 years of service. Over a thousand happy clients and basement waterproofing projects in Toronto. That's over 50 projects a year. Given that an average basement waterproofing project lasts from several days to multiple weeks, you can guess that we truly love our job.
We might be not the biggest company in the field, don't have a fleet of branded trucks and fancy uniforms. Willfix approach is different: we treat every basement like our own. All 15 professionals in our team understand the dangers and the stress of basement leaks, and we're ready to share our expertise to solve the problem.
We know that professional waterproofing is not just a solution: it's an investment as well. It saves your time and money in the future by preventing leaks, and at the same time — increases the property value. That's why we don't subcontract other companies, so you can rest assured that all the work is performed by professionals, at every stage.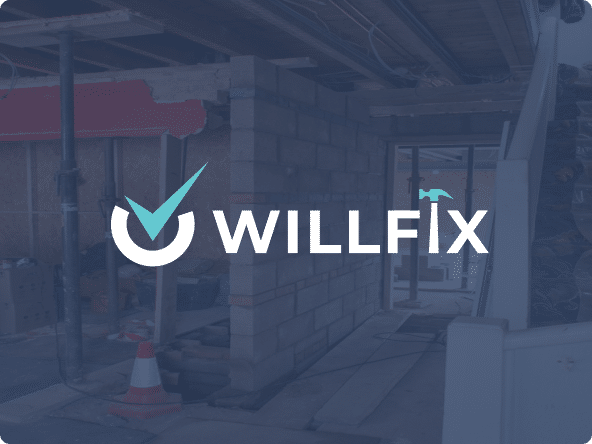 DO NOT WAIT & CONTACT US
Get a FREE Written Estimate
SERVICE AREAS
Will Fix Basement Underpinning Locations
Will Fix is celebrated for top-tier workmanship in Oakville, yet our reach extends far beyond. We offer an extensive array of basement underpinning services and more, serving a wide range of areas. 
If you're situated beyond Oakville or reside in an adjacent neighborhood, rest assured, the same high-quality service and commitment Will Fix is recognized for are at your disposal. 
Our dedicated team stands prepared to deliver our distinguished service and enduring solutions right to you, guaranteeing that your residence benefits from the finest expertise and attention, irrespective of your location.
Don't See Your Area Listed? No Problem!
CALL +1 (647) 691-4183 to learn whether your location is within our reach.